The management of irregular corneal conditions (in non-diseased eyes) including keratoconus, pellucid marginal degeneration, post-penetrating keratoplasty, post-radial keratotomy and post-LASIK surgery very often requires a large diameter GP material to help maximize visual acuity while ensuring optimum eye health. To address that need, Lagado offers TYRO (Dk 97) in a variety of large diameter blanks.
Lagado large diameter products are also available as an Enhanced Shouldered Blank. With a back surface precut and a radiused front surface shoulder, the Lagado ESB can help reduce cycle times during lathing by as much as 40 seconds a lens. Simply shouldering the button only removes 13% of the material – the ESB form removes more than twice as much, up to a 40% reduction in volume, leading to a significant reduction in relapping costs.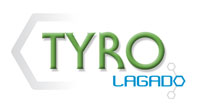 TYRO-97
TYRO-97 is an ideal high Dk lens material for the management of irregular corneal conditions.
SPECIFICATIONS:
| | |
| --- | --- |
| Oxygen Permeability (Dk) | 97 |
| Refractive Index | 1.440 |
| Wetting Angle | < 25° |
| Hardness (Shore) | D/80 |
| Specific Gravity | 1.12 |
| Large Diameter Stock Colors | See Lagado Products Guide |
Highly permeable material – Dk 97
Formulated to achieve a critical balance of rigidity, durability, wettability and stability
Outstanding surface properties
Offers greater rigidity and lower flexibility compared to other high Dk materials
Available for all corneal diameter lenses and most scleral lens designs
Shouldered, flat and ESB blanks available in 17mm and 21mm.
Custom dimensions available upon request.